Erasmus+
Probably, many will have learnt from the media about the good news that in the autumn of 2018, 200,000 publications supporting vehicular cycling will be distributed among 4 and 5-graders in Hungary. But fewer might be aware that this publication was based on a Bike Academy workbook and instructor's manual, developed in an Erasmus+ public education project which was implemented by a partnership of four countries and coordinated by Vuelta Sports Association. We talked about the Safe4Cycle project with project coordinator Dóra Szűcs.
Learn to Ride a Bike at School Safe4Cycle – Bike Academy the European Way
Vuelta Sports Association has been engaged in cycling affairs and developing vehicular cycling in Hungary for two decades. Which international organisations have joined the partnership?
In spring 2015, we were approached by a Transylvanian Hungarian non-profit organisation, the Community Foundation of Marosszék, in connection with a conference organised around a similar topic. The Association makes great efforts to promote - among other non-profit causes - primarily the cause of vehicular cycling. They have an especially considerable backlog in this field; they wanted to follow our example, and we wanted to expand and improve the expertise already established in Hungary. This common drive gave birth to the basic pillar of our Safe4Cycle project. Our Austrian partner, EasyDrivers Mobile Radfahrschule, is also an organisation engaged in instructing road safety for cyclists, with an educational programme developed not only for children, but for various categories and adapting to various needs (up to the senior generation).
To make the story complete, we asked Mobycon, the leading transport science institute of the Netherlands, considered to be the "cradle" of cycling in Europe, to be our forth partner acting as a professional consultant in the European initiative.

Which one of the two years' achievements are you proudest of?
The most tangible products of the Safe4Cycle, as well as the ones we are the proudest of, are our two publications: the Bike Academy workbook and the Bike Academy instructor's manual. We had long wanted a publication to be available in Hungary which contains the most important pieces of information about vehicular cycling in a child-friendly, and still informative manner, with lots of colourful images and little text. When creating the graphics, it was an important criterion that we use road signs and markings which children can actually see in the streets; it was because although there are a number of publications available in the book shops, when you open them, you are usually faced with the image of an Austrian or German policeman, certainly illustrated with the matching environment. In the past two years, about five hundred Bike Academy instructor's handbooks were distributed; on the one hand, 200 policemen and civil guards were commissioned by the National Accident Prevention Committee of the National Police Headquarters to attend a one-day Bike Academy training session, and, on the other hand, 270 teachers also received the publication during the 'Bringásvándor' (Cycling Wanderer) teacher training sessions held in spring 2018. Therefore, anyone who attends any Bike Academy training will certainly get hold of an instructor's manual. The Bike Academy workbook, for example, is in regular use in all the schools of Szombathely, Karcag and Bükkszentkereszt.
The publications produced provide complex knowledge when supported by the underlying theoretical and practical training; the publications themselves only serve as auxiliary materials for later teaching and learning.
However, breaking out of the constraints of the school environment, we also created an interactive online platform, made available to anyone, where children - even with their parents - can test their theoretical knowledge in a safe environment before they enter real-life traffic. This playful little video faces children with basic decision-making situations which may occur in the traffic every day. The video is available on our project website in Hungarian, Romanian, German and English languages.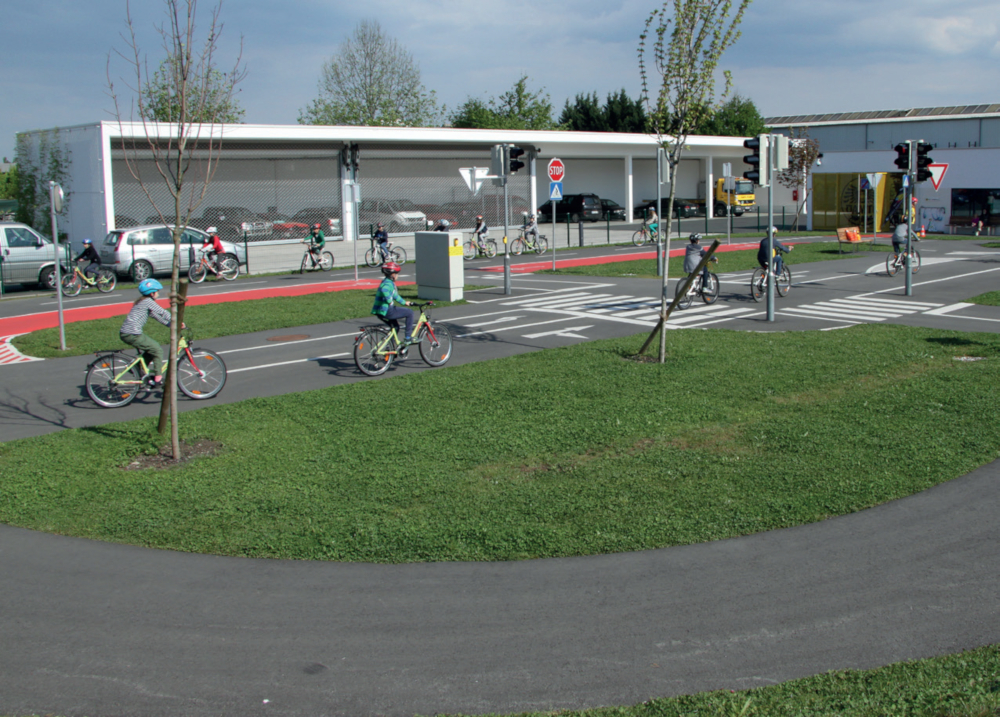 Compared to the other partner countries, where is Hungary today in the field of cycling education and vehicular cycling?
The geographic position, the level of development of the cycling infrastructure, the recognition and embeddedness of vehicular cycling are all good indicators of the level, and the number of children reached by, cycling education in a particular country. It tells a lot about Romania that, according to the local Highway Code, cyclists under the age of 14 are not allowed to ride a bike on public roads; nevertheless, a town the size of Targu Mures only has a few hundred metres of cycle paths. In contrast, in Austria, children need to take an (theory) exam in vehicular cycling in the 4th grade of primary school, and under the age of 12, they can only cycle on public roads independently, without adult supervision if they have also successfully passed a practice exam. This latter is not compulsory, but most children try to obtain their 'cycling license'.
During our travels, we gained a little insight into the future: in the Netherlands, we attended a training session where one of the subject matters was using mobile phones while cycling, as it represents a major cause of accidents among cyclists. (That was why in September 2018 a decision was made on banning mobile phone use while cycling.) That is an issue which we will surely need to address, too. Another example comes from our Austrian partner, engaged in e-bike education, even if not primarily for children. The number of e-bikers in Hungary is still low, but we have no doubt that sooner or later pedelecs, which move quite differently from bikes without an electric motor, will become widespread in Hungary, too.
As in many other fields, Hungary is positioned somewhere between the East and the West in the field of cycling education; Bike Academy is among the optional subjects in the 3rd and 4th and the 5th and 6th grades of primary school. At the same time, we regularly find that schools can't ensure the average three classes annually, specified in the National Core Curriculum, focusing on vehicular cycling, let alone one class per week.
Perhaps this year we can take a big step ahead; the Bike Academy workbook was supplemented with pedestrian education, and that was how the publication called Traffic Manual was created, to be distributed among all the 4th and 5th graders in autumn 2018, altogether in 200,000 copies. It can be of great help for teachers when filling the compulsory number of classes with content.

That's a great achievement, congratulations! And now there's nothing more left than tell our readers where to find the project outcomes.
In the future, the curriculum developed in the Safe4Cycle project will be used in the Bike Academy programme in Hungary. We organise 30-hour accredited training courses for anybody who is interested (not only teachers), launched from at least 8 applicants anywhere in the country where the need arises. The classroom-based training addresses all the theoretical and practical information necessary for teaching primary school children safe and confident vehicular cycling. The school courses are supported by the Bike Academy workbook, as well as the Bike Academy instructor's manual, provided to every mentor who attends the training.
For more information about the project, please visit http://www.safe4cycle.com, and about the training www.bringaakademia.hu, or contact programme leader Tamás Abelovszky at info@bringaakademia.hu.


Project title: Safe4Cycle
Full funding granted: 34 0145 €
Coordinator: Vuelta Sports Association
Partners: Community Foundation of Marosszék, Romania, EasyDrivers Mobile Radfahrschule, Austria Mobycon, Netherlands
Project website:http://www.safe4cycle.com
Utolsó módosítás: 2019.04.18.