Erasmus+
Years ago, a Hungarian, a Dutch and a Scottish music institutions decided to try and combine Kodály's principles with 21st century music pedagogy. This idea led to the birth of the strategic partnership project called Kodály HUB: Sing, Learn, Share, which was granted under the Erasmus+ Programme. Approaching the end of the project, the outcomes of the past period, as well as the plans for the future, are becoming clear. That was the focus of our conversation with Beáta Furka, Project Manager at Liszt Ferenc Academy of Music.
Share and Sing! - Experiential Learning by the Kodály Method
The project launched by the Budapest Academy of Music and the Scottish and the Dutch Royal Academies of Music primarily sought to develop new, innovative tools to support primary school music teachers holding experiential learning based classes for their students.


In Hungary, there is no other such a well-known pedagogical method in music, or perhaps even outside music, as Kodály's, since for generations, almost every child has been exposed to it either in kindergarten or at school. Kodály has been part of the Hungarian intellectual heritage for decades; still, the question arises how you can turn that into an Erasmus+ project.
All the three university partners agreed that there was a need for an initiative which calls the attention of music academies to the fact that without well-trained teachers and a modern curriculum it's impossible to solve a problem which exists in many countries, namely that children aren't provided proper music education in an age when they are the most receptive to music. The members of the consortium, who had had a long-standing working relationship, had been interested in writing a common curriculum and methodology materials based on a new approach for years. It was complemented with the idea of a digital knowledge centre, where we can make our development outcomes available for the whole world, and we can involve the professionals who teach using Kodály's approach worldwide. These were combined into a well-structurable project, perfectly adapted to the priorities of Erasmus+ Strategic Partnerships, too.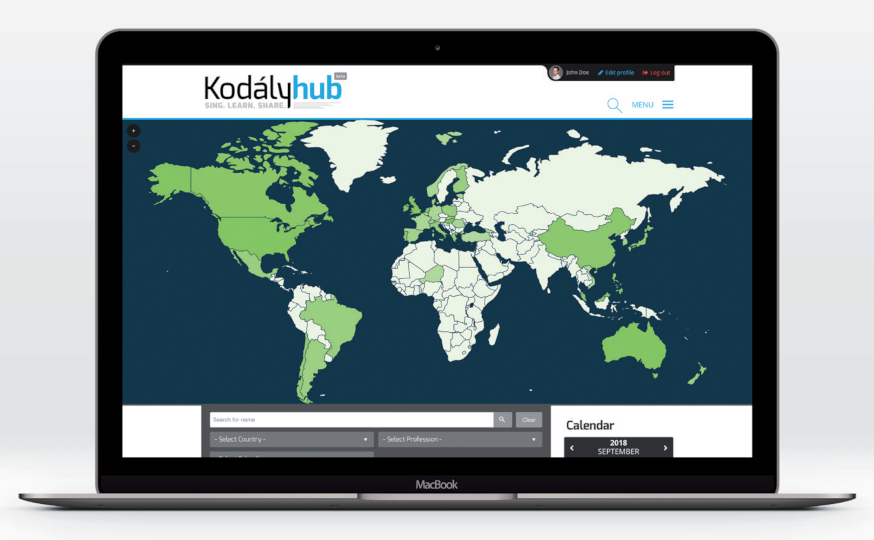 Kodály embodied an idea which was European to the core: he has built a free world which knows no boundaries, and where music belongs to everybody, because it connects all of us. This thought is just as valid today as it was a hundred years ago. Nevertheless, mainly due to technology, the world has changed a lot. How much do we need to transform Kodály's methods to adapt them to the changed circumstances and needs of the 21st century and to children's interests?
Kodály's method is not the Ten Commandments, inscribed in stone, but a philosophy based on profound considerations, which you can and should always adapt to the given circumstances. What's wonderful about it is the very fact that, since its basic principles are universal, they have been unchanged, adapted and used in many parts of the world for decades. The principles of writing and reading music have not changed, either; only the approach and the methodology needs to be updated. Kodály wrote lots of exercises, and he believed in the effectiveness of experience-based and playful teaching. This is what we mean to enhance in this project, since one of our undertakings is to analyse and make available hundreds of musical materials (folk songs, art songs, music listening materials) according to various criteria. We provide teaching recommendations with the material, as well as the description of the game and choreography which help teaching, or with a link to the material. We upload all this to a new digital platform, the Kodály HUB, where professionals who teach using the Kodály method can join the community, learn about the music of each other's countries and inspire each other.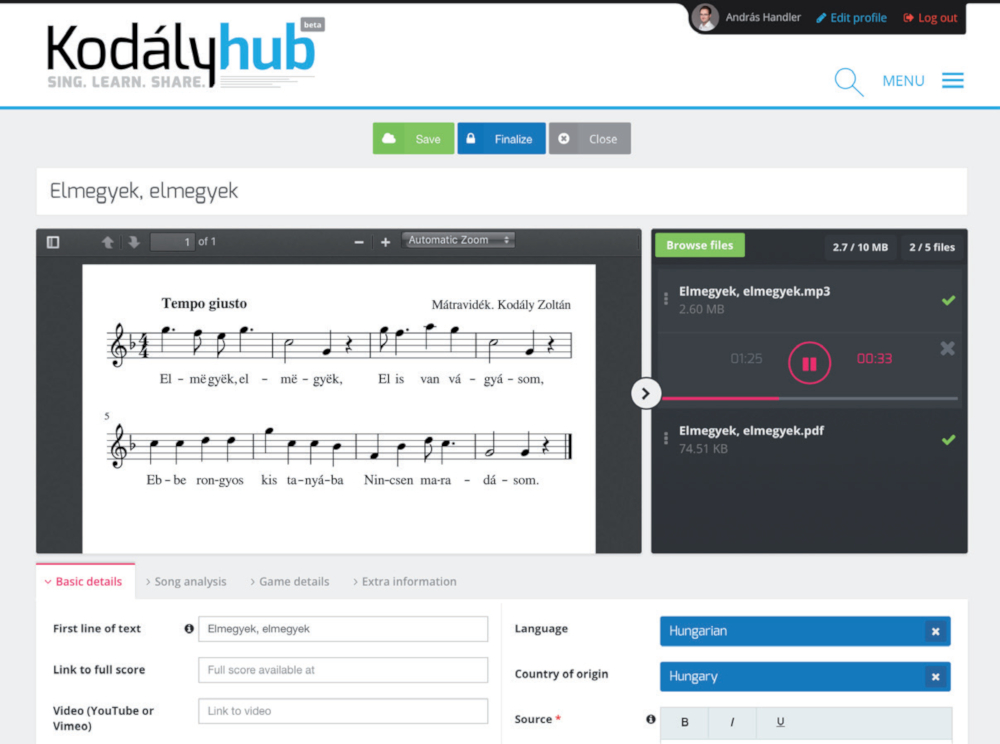 Are there any digital tools which can be used to complement and support the use of the Kodály method at school?
The Kodály HUB can work anywhere where there's internet access; it can be displayed on smart boards, viewed on any device, even on a smartphone, and teachers may as well derive new ideas from it on a tram, on their way to school. Since it allows instant search, it can also be deployed during a class to find a new song or choreography, if the classroom dynamics so requires.

Which achievement of the project are you the proudest of?
Perhaps the lot of positive feedback which we got from the participants of the multiplication events aiming to popularise the project, regardless of their home countries.

How do you plan to further develop the project and maybe to expand it to involve other institutions, too?
The goal is to build a user base as broad as possible; we want the use of HUB and the mentality it represents to become a natural part of education, from the smallest ones to university education. That's why we made HUB a part of teacher training programmes besides university education in all the three project countries, and through our extensive network of international relations we want to 'infect' as many of our professional partners with the idea as possible.
The Kodály HUB digital knowledge centre is available at: www.kodalyhub.com
Utolsó módosítás: 2019.08.05.