Erasmus+
In addition to gaining international experience, the institution's teachers returned from their training abroad refreshed professionally, with new knowledge and an expanded network of contacts. We talked with Zsolt Horváth, coordinator of the project, about their Erasmus+ award-winning application.
Institution: János Xántus Bilingual Secondary School
Project title: Developing the skills of project teaching
Coordinator: Zsolt Horváth
Project website
How did you come up with the idea to start an Erasmus+ application?
Our institution has a long history in the field of application; we have previously participated in the Comenius program. "Developing the capabilities of project teaching" was our third Erasmus+ project. The programme fits the school's profile exceptionally well, as our secondary school places great emphasis on foreign language teaching, which is closely linked to Europeanism, European relations and other vital priorities of Erasmus+. A significant number of our colleagues teach language or subjects of public knowledge in a foreign language. Furthermore, our secondary school used to function as a tourist secondary school for a long time also prompted the application, so this was part of the tradition, which is also strongly related to foreign language teaching, the building of international relations and networks.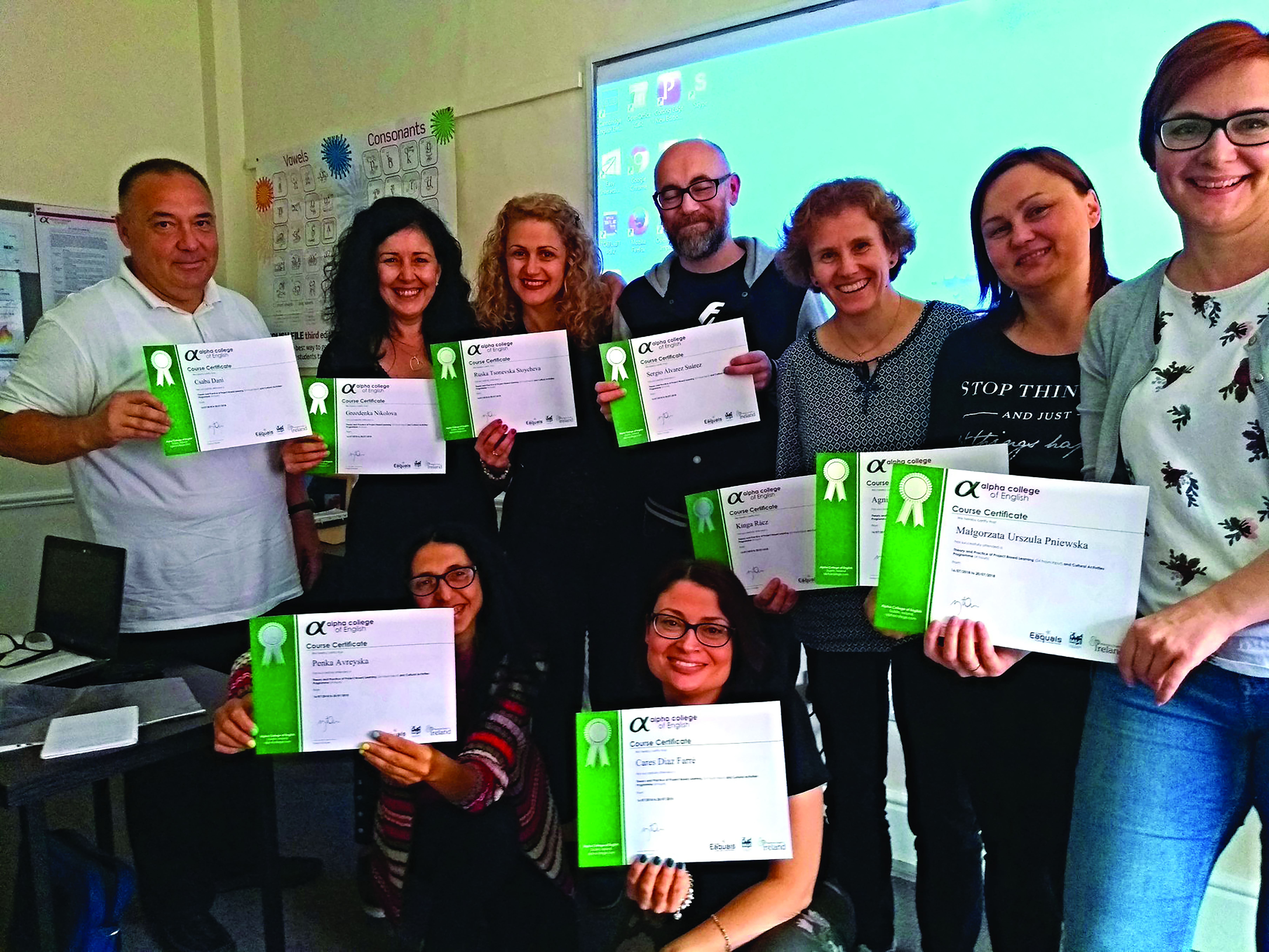 What were the main objectives of the project, and how were they defined?
The project's primary aim was to learn about modern teaching methods and reform pedagogical methods, because the since in recent years, the abilities of students, their interests, attitudes, and ways of learning have changed significantly – even compared to students from a few generations ago. For this reason, the need to add new ones to traditional frontal teaching methods, which build much better on the autonomy and creativity of students. Another objective was to develop the ICT competencies of teachers, which is an everlasting topic, and we feel that nothing is good enough in this area; there is always room for improvement, and in addition to spontaneous processes, it is necessary to do something consciously. Our third goal was to learn about new, modern language teaching methods, which can be applied to all languages.
What happened during mobility?
There is already a great deal of good practice concerning the project method across Europe. The project aimed to transfer them to the school's pedagogical practice. The school staff took part in various trainings and job-shadowing visits, so today a significant number of our colleagues can think" in projects."
Who took part in the mobility? How did the project team come together?
We implemented nine mobilities involving a total of eight people. Mainly language teachers, but also teachers who teach their subjects in a foreign language. For example, a colleague, who teaching physics was part of the team who had a good command of English and was able to take part in a training course in Ireland. Today, it is even less typical of the teaching society to get training in an international environment. Therefore, we consider it of great value that a teacher teaching a subject of public knowledge is applying for training abroad, studying in a foreign language and can broaden his professional horizon in an international environment, learning about a completely different educational system.
What courses helped the development of the competencies of colleagues during mobility? In which areas did you notice the most remarkable change and growth?
It is worth mentioning that the institution's management actively supports the Erasmus+ project: Dr Judit Fehérvizi, director, who, among other qualifications, is an Italian teacher, has also taken part in language teacher training courses. Our deputy director, who teaches English, studied CLIL (Content and Language Integrated Learning) in Ireland. As a coordinator and geography-German teacher, I attended a job shadowing in Baden-Württemberg, in a small rural school, in the field of geography. I was then able to visit Düsseldorf for a two-week course on the Moodle framework and how to apply different tools and platforms to digital teaching. The rest of the project team was to England, Spain and Italy and has acquired new knowledge in various trainings.
In retrospect, having experienced the coronavirus pandemic and the events of the past year, it may be surprising that many useful methods in digital education in the pandemic situation had already been used around 2018. For example, our Spanish teacher learned about a language examination method that can be implemented entirely online in a modern language teacher training course with innovative strategies related to Spanish. You could say that we outpaced Covid-19 because we had the tools and capabilities to create a digital classroom, if it was needed.
As a result of the mobility, besides the enrichment of the target language and the cultural, the professional, methodological and pedagogical toolkit of the colleagues significantly expanded. The acquired knowledge, as well as the innovative lesson organisation and teaching techniques experienced and tested in practice, can also be applied in their everyday teaching work.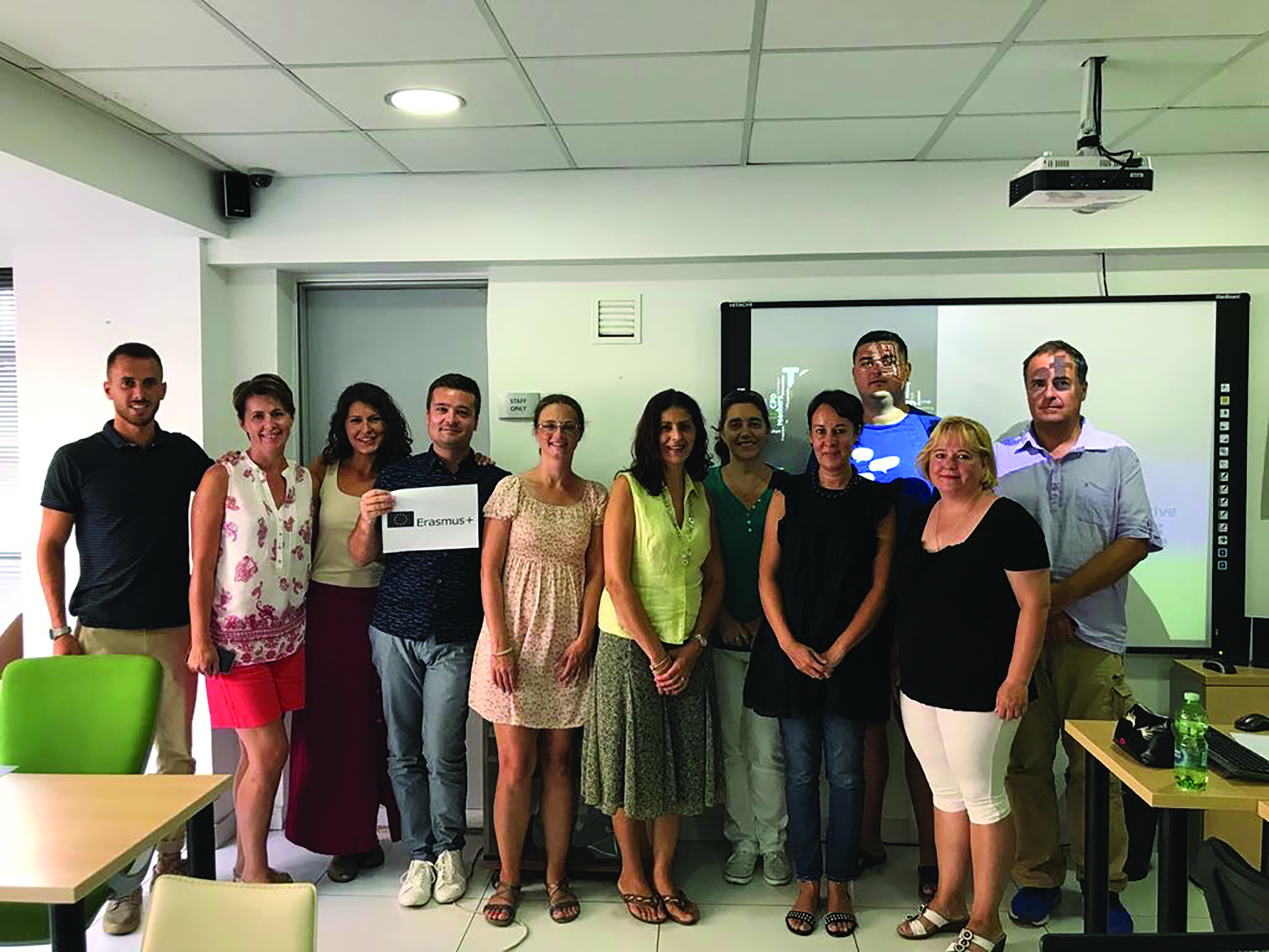 What is the attractiveness of Erasmus+ projects among staff?
Among the staff, it is clear that they can gain international experience. It is a great professional step forward for a teacher to spend a few weeks in another country, which means a great deal of professional knowledge and refreshment, and building relationships also plays an important role. After returning, for a long time, we use the knowledge and information acquired during mobility. Through our professional contacts, new applications and mobilities are created.
What is the long-term impact of a project?
After the mobility, the knowledge brought home is gradually incorporated into the life of the institution. The participants share the new methods, techniques, and websites they learned widely, at different levels and channels, with members of their working community, teachers of the district and the capital, and the governing body. There are professional discussions, we create a common task library, including the tasks, exercises, and experiences we collected during mobility.
What are your future plans?
We would definitely like to maintain Erasmus+ projects in the institution. In the new programme phase, we submitted an accreditation application, which has since won support. We want to expand the projects, and in the framework of strategic partnerships, we are trying to involve students in this opportunity as much as possible with student mobility. Among the project objectives, the development of ICT competencies and digital education remained. The aim is to support those students studying in the secondary school, who are not native Hungarian speakers or from a non-Hungarian environment so that we can integrate them into the curriculum of our education system as much as possible.
What dissemination tips would you give to other projects, what would you advise, what should they pay attention to, what should they focus on in this area?
With modern tools and forms, it is crucial to ensure that the message is delivered to the right audience. In addition, we should remember that dissemination must also be disseminated – the project should not only be up there somewhere in the digital space but should also reach as many people as possible!
Project values
As a result of the mobility, in addition to the enrichment of the target language and culture, the professional-methodological and pedagogical toolkit of the employees broadened. The acquired knowledge and the innovative lesson organisation and teaching techniques experienced and tested in practice can also be applied in everyday teaching work.
Interview by Boglárka Simon | Tempus Public Foundation | Erasmus+ Programme Directorate
Utolsó módosítás: 2021.12.17.