Erasmus+
ÉK Association has created a multilingual digital dictionary, illustrated with pictures to help students of architecture and construction to learn the professional language and to summarize modern and traditional European construction technologies. The ARCHIDICT dictionary is available free of charge and, in addition to its educational purposes, facilitates international commercial cooperation. We talked to Gábor Palotás, the association's vice-president and project coordinator, about the successful project, which was awarded an Erasmus+ Excellence Award.
ARCHIDICT – Multilingual dictionary for architects, builders and contractors
What is worth knowing about the ÉK Association? Where did the idea to become an Erasmus+ applicant come from?
The ÉK Association was founded in 2006 by a group of university friends. We are a small association of architects with only twenty members. Our main objectives are to work on monuments and to promote traditional building skills to the general public. To this end, we have been participating in various international programmes such as Leonardo or Erasmus+ since 2012.
How did the idea for ARCHIDICT come about?
The idea for ARCHIDICT was born out of a long-standing need. During my university studies, I was confronted with the fact that there was no specific architectural terminology that I could learn, even in English. There was only one general engineering language course, which contained a negligible amount of architectural terminology. In the 1980s, a German-English illustrated dictionary of architecture was published, of which the Hungarian version was the only source material available. The aim of ARCHIDICT was to provide a solution to this problem. We decided to create a multilingual picture architectural dictionary available online, which would provide the detailed overview of the different subject areas.
After a lengthy period of partner search and preparation, we launched the project in 2017, with eight partner countries. In addition to Hungarian coordination, partners from Spain, Portugal, Bulgaria, Poland, Greece, and Italy worked on the project. The Hungarian partner was responsible for the general coordination and the preparation of illustrations, while the Turkish partner provided the IT support.
What was the biggest challenge in the implementation of the project?
One of the most important challenges was the creation of the IT framework for the dictionary. Since our goal was to make ARCHIDICT a model for similar dictionaries in the future, we had to design it such a way that it could be developed and expanded The model we have created allows for the transfer of innovation, i.e., the extension of the technical and technological solutions used for the dictionary to other subject areas, whether engineering or natural sciences.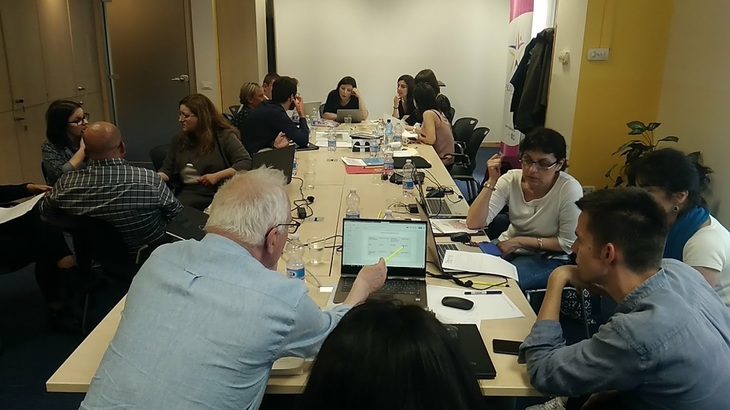 What is the greatest advantage of ARCHIDICT?
As ARCHIDICT is an online digital dictionary, it also allows for interaction. We have paired the drawings for the different topics with audio clips. The undeniable strength of the dictionary is that it incorporates modern formulations and technologies. It is particularly useful in international cooperations where teams from different countries work on a project. We have been involved in several such projects in recent years, and there has always been a need to find a common language – ARCHIDICT can provide major help in these international collaborations.
The dictionary is currently available in nine languages. In addition to the major world languages, eastern European languages such as Polish, Bulgarian, and Hungarian are also included, but we have also received requests from countries such as Wales and Turkey, so there is a strong possibility of adding more languages in the future. An important achievement is that many of our illustrations have been used in a forthcoming Italian architecture textbook.
How has the association benefited from the results of the project? What are the future plans?
As a result of the project, we have received a number of inquiries from people who see potential in the dictionary and are aware of its significance. They have come forward to help with further development, either by adding new languages or in other ways. Thanks to the project, we can now be easily found by those who consider it important to make a multilingual, interactive illustrated architectural dictionary be available to the general public – either at a European or, even wider, international scale.
It is not an exaggeration to say that we are planning for many years, even decades with this project.
Values of the project:
The project partners used innovative educational solutions and state-of-the-art software technology to make the ARCHIDICT platform a useful resource for both education and work. The learning tool, available in nine languages, includes interactive tests to measure progress in language learning. Other achievements of the project include a teaching manual, a dictionary extension guide, a downloadable and printable version of the dictionary, and a multilingual printed version of the online dictionary content. Two additional manuals in printed format have also been produced to promote the dictionary as an educational tool for vocational training and universities, and to provide guidance for further expansion of the digital content.
Institution: ÉK Association
Project title: Illustrative Multilingual Dictionary for Architects, Builders & Construction Workers
Coordinator: Gábor Palotás
Project website: http://archidict.com/hu/
Diána Baranyi | Programme Coordinator
Tempus Public Foundation | Erasmus+ Programme Directorate
Utolsó módosítás: 2022.11.21.