Erasmus+
The staff of the Southern ASzC Jánoshalma Agricultural Technical School, Vocational School and Dormitory attach significant importance to gaining professional experience abroad. To this end, the institution continuously hosts groups from abroad, and they also provide their students and teachers with this development opportunity. The aim of their Erasmus+ award-winning project was to learn and adopt the best practices and procedures already used and proven in the partner institutions and to ensure continuous improvement.
Sustainability and technical innovation in animal husbandry
What was the project about and what was its main objective?
Our project involved the mobility of teachers and students to Austria.Our main aim was to introduce the students to green feeding and learn about the new aspects of animal husbandry. We focused on improving the students 'professional knowledge and environmentally awareness, as well as introducing teachers to environmentally friendly methods, modern technology and integrating them into the curriculum.
Our Austrian sister school has recently built a smart barn and purchased a feed distribution and milking robot. These devices are not yet available at our school, so we would not have been able to demonstrate their operation to our students.
What professional and methodological changes has the project brought about?
The experience gained during the project has made a difference in the life of our school in several aspects. We have expanded the curriculum with what we saw at the Austrian institution, and what we learned abroad has encouraged us to organize more activity-based practices and to make the school's farm more sustainable. We introduced green feeding, which helped us increase milk yields. The feed distribution robot we learned about is not only innovative but also green - it helps reduce waste.
The selection of the participating students played a role in making this international opportunity available to those with fewer opportunities. How has it changed their lives?
We placed particular emphasis on the participation of disadvantaged students. Our aim was to give students the opportunity to step out of their usual environment and see the world, as well as experience first-hand the importance of language learning. For us, the greatest value of Erasmus+ is that it gives participants the opportunities to get to novel places, to acquire new perspectives and knowledge. This strengthens the adaptability and makes both students and teachers more open and accepting.
And what did this project give the students professionally?
They have improved professionally by learning recent technologies, but perhaps more importantly, their hosts have given them the economic work to do, so they have learned independence and their self-confidence increased. It is no coincidence that during the evaluation of the project, several students said that they now feel capable of doing anything. They became much more self-aware and motivated, which made them a better worker.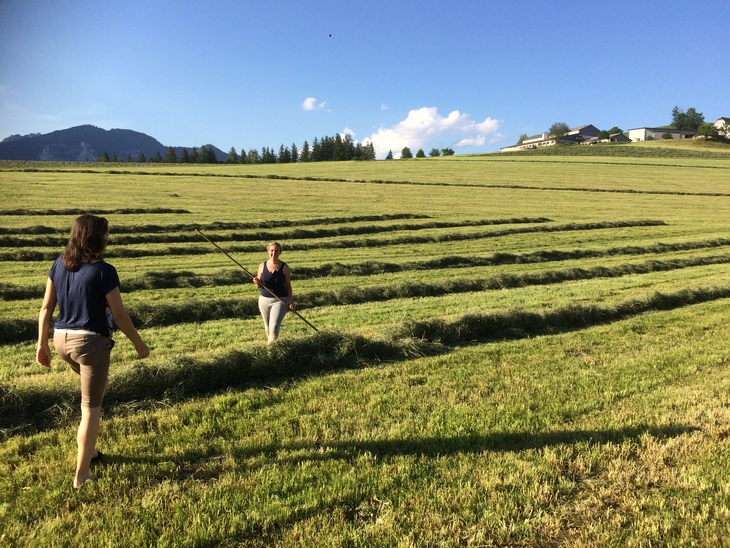 The Europass Mobility card they received at the end also shows what they have actually learned and how they can apply the knowledge they acquired, which is something that employers also notice. In fact, they learn working methods that would not be possible at home. The more knowledge you have, the more in demand you are on the labour market.
And what did the school benefit from the participation?
New knowledge of extensive animal husbandry, the adoption of new organisational procedures and methodologies all contributed to the institution as a whole benefiting from the results. The knowledge acquired during the internship has also been incorporated into our adult education programme, so up to 1000 students can learn about every year.
We also share good practices during the enrollment process, presenting the mobility experiences in a student-centered and fun presentation to prospective students and parents who see that the school is open to innovation.
What are the institution's further plans for Erasmus+?
Those who did not have the possibility to take part in the project, but saw how much their classmates have improved, constantly ask us when Erasmus+ will be back. This is a programme that we recommend to everyone, especially those schools with a lot of disadvantaged students. It is wonderful opportunity and the responsibility of schools to use it for the benefit of their students.
What is your message to prospective applicants?
Above all, we advise them to set f a very specific goal. Be extremely specific about what you want to achieve and be very detailed and thorough in your preparation. Draw up a work programme that is feasible and considers the skills of the pupils. And when choosing a partner, make sure that the profile of the institution is similar.
Values of the project:
The school's teachers and pupils have been introduced to green feeding and new developments in animal husbandry. On the Austrian school's premises, smart stables, feed distribution robots, milking robots and advanced machinery were used to help with animal husbandry, and the animals' movements and behaviour were monitored using chips. The students' work experience was partly on school premises and partly on farms and smallholdings. Teaching practice became part of the compulsory vocational training. The knowledge and good practices acquired were integrated into the school's pedagogical programme and new technological procedures were introduced to the students. It is worth mentioning that the institution has worked closely with agricultural enterprises in the region, involving them in the implementation of its projects.
Institution: Southern ASzC Jánoshalmai Agricultural Technical School, Vocational School and College (formerly: FM East-Hungarian Agricultural Vocational Training Center, Agricultural Vocational Secondary School, and Dormitory)
Project title: Sustainability and technical innovation in animal husbandry
Coordinator: Mónika Stadler (Deputy Director), Éva Sári (General Education Teacher and Head of Adult Education)
Project website: https://jhszaki.hu/palyazatok/erasmus-2018/
Diána Baranyi | Programme Coordinator
Tempus Public Foundation | Erasmus+ Programme Directorate
Utolsó módosítás: 2022.11.21.