CEEPUS
The summer university organised for the third time by the Faculty of Political Science and International Studies focused on, among others, the social and political impacts of migration, the BREXIT, multiculturalism and competitiveness. One of the organisers, Dr. Andrea Schmidt, Associate Professor with habilitation, sums up the lessons drawn.
The Challenges Facing the European Union - University of Pécs, Pécs
"The uniqueness of the summer university lied in the fact that, on the one hand, it covered a currently much-discussed area through presenting the latest research findings, and, on the other hand, it addressed the problems and challenges related to the European Union from a number of aspects. We deployed experts from various fields such as globalisation, international migration, intercultural communication, marketing and regional studies.
We consider it important that today's university students should not only learn about the political, social and economic changes induced by global challenges via various media, but get an extensive overview of the current situation, relate to the problems which arise as active, thinking and caring citizens and think about long-term solutions.
As part of the course, the students tried to find common, cross-border, European solutions to the problems and opportunities arising. Through their Russian, Italian and American peers, the participants of the course learnt about an entirely new approach to the subject matters discussed. These points of view also greatly helped students become more accepting towards other views and other cultures.
The summer universities also complement the existing Erasmus and CEEPUS mobilities well. Our goal is to keep up the practise we started three years ago, as this year we could count with more participants than ever, which we think is definitely a positive outcome."
CEEPUS network: Europe from the Visegrad Perspective
Summer university title: "Identities Under Pressure?" Changing European Union, New Global Order in the Making
Participating countries: The Czech Republic, Poland, Serbia, Slovakia, Slovenia and Hungary, and from outside the CEEPUS network, the US, Italy and Russia.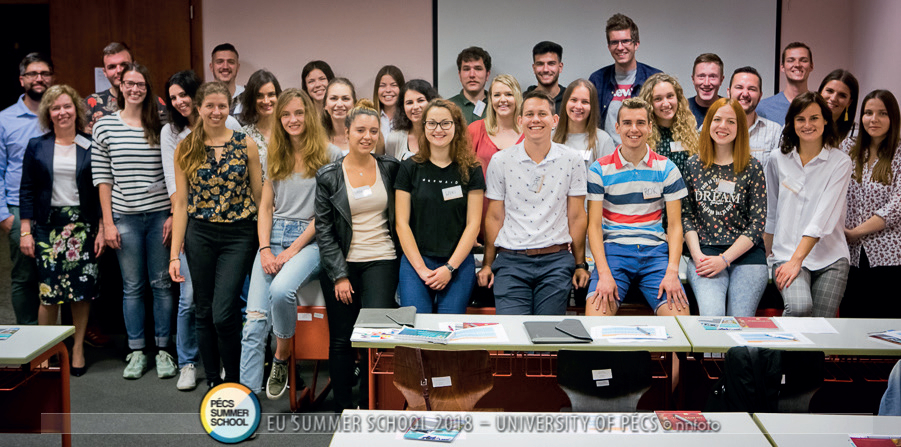 Last modified: 12-06-2019