Grant application opportunities of the European Solidarity Corps for green goals
Sustainability and community building
Foreign volunteers for sustainability

"Receiving volunteers is more and more common among green organisations. Those who are open to it may get an extra boost by a foreign volunteer joining them" - said Dóra Kondora, Chairwoman of 'Szatyor' Association, responsible for volunteers in Budapest. The Association seeks to promote a sustainable and environmentally conscious urban and rural community life in Budapest and Etyek. With a focus on sustainability, they operate a permaculture garden in the countryside, and in the city, a shopping community, a green shop and environmentally conscious catering, and they organise workshops and Erasmus+ exchange programmes in both locations.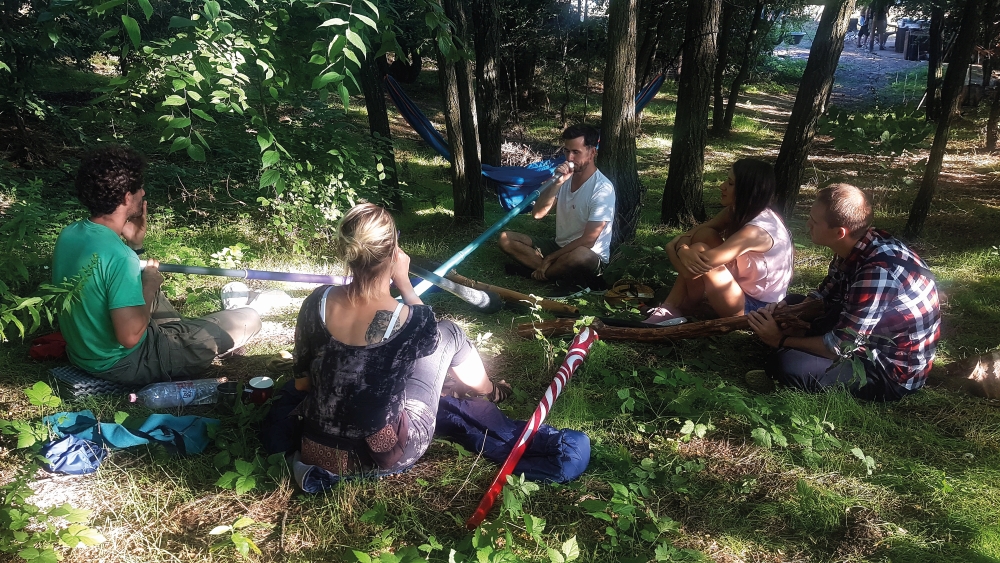 Szatyor Association has received volunteers for years, so when the former Erasmus+ volunteering was replaced by the Corps, it was clear that they would apply there, too. Currently, Szatyor employs three volunteers in Budapest, who provide assistance with everyday duties, the background work of workshops, participate in community gardening, and they also implement their own individual projects with a focus on sustainability.
I can see that people and volunteers who choose us are more and more conscious. Our current team is very committed, with very specific plans about who they want to address with the topic and how."
The Georgian volunteer, Tamar, for example, joined the organisation because at home he as a teacher wanted to teach environmental protection, and he wanted experience and new points of view. For his long-term goals, besides the everyday duties within the organisation, he also wishes to implement his own projects, addressing children and teenagers. "I think the first step is to teach young people to like and appreciate nature - and only then will they realize that they need to take care of our Earth. That's why I want to get to schools and hold environmental workshops, as well as to establish a trekking club for teenagers. When you're trekking, you spend much more time in nature, at a much deeper level than when you're just sitting in a park - and you learn to accept the peculiar rules of nature. In the woods, I could tell them about environmental protection so that they feel why it's so important: they could feel the soil, the leaves, or the atmosphere of a pond when we find one. It's easier to teach them environmental topics when they have got in contact with nature.
And what receiving a volunteer can give to an organisation, beyond the extra help in everyday duties? A lot of opportunities for personal and organisational development. "The young people become parts of an organisation, and thus they learn about the way they work, and if necessary, make changes to it. As they develop, we (the organisation, the coordinator or the staff) develop with them, too, year by year. All this should be viewed as a process, and we need to assess what we can mutually give to each other. The added value of receiving volunteers is mutual learning. Solidarity Corps provides a framework to that, but the real happenings, the exciting points, take place within the organisation and the people", Dóra sums it up.
Domestic projects for sustainability
You can't only apply for European Solidarity Corps funding for receiving volunteers. A new feature of the programme is that it also supports the implementation of domestic, so-called solidarity projects; it requires a team of least five young people, aged 18-35, with a Hungarian address of residence, who seek answers to a challenge within their own local community. In order to be eligible to apply, the young people need a good idea and a host organisation: János Kecskeméti and his team relied on the support of Játszoda Association as their host organisation.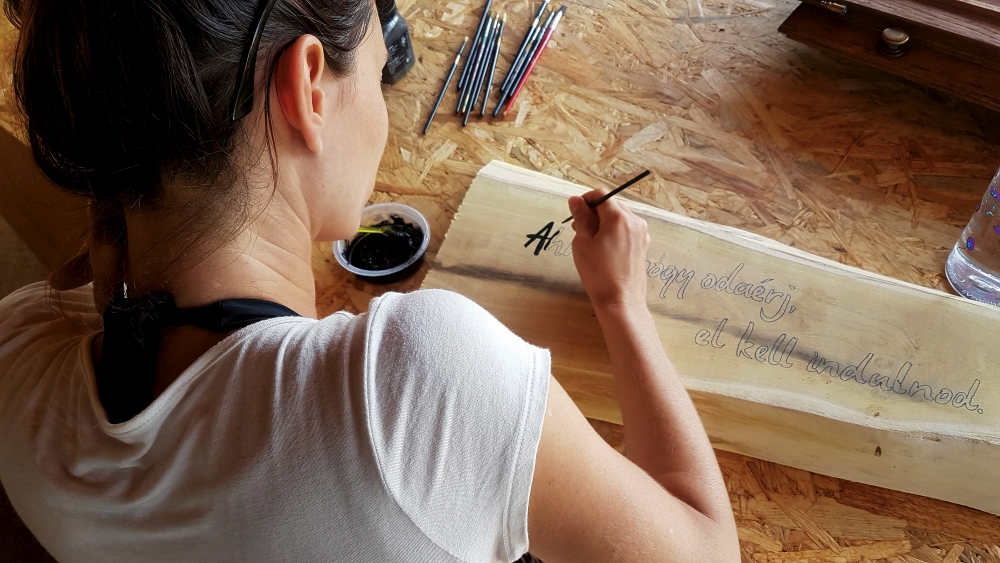 Their currently running project seeks to develop Dombfalva. Dombfalva is a community programme venue, situated in the hills not far from Gödöllő. The project of János' team has set three goals: one, to develop Dombfalva into a family-friendly community programme venue; two, to develop a related active community; and three, to promote sustainability and environmental protection. As part of the project, they built a solar shower, a summer kitchen, a toilet, a playground, an adventure park and a camping site to make the area suitable for accommodating larger communities. Community building already began at that point: the construction work was announced as a series of workshops, so anybody could join, for example, to build the shower. "It was a complex task, so we learnt a lot, too. It's not enough to conduct a workshop: you need to advertise it, attract participants and organise their transfer to Dombfalva. My workshops were attended by many people who wanted to build solar showers at home, too. These open events are great because the participants learn something new, the venue benefits from it, and it's also useful from a marketing point of view", János explains.
The climax of the programme series was the Organix Festival during the long weekend in August, with about 50 participants. The festival was organised in cooperation with Vadart contemporary fine art group, and it focused on promoting arts and environmental protection. The several-day event did not only provide an opportunity to build a community, but it also served as a "dress rehearsal" for Dombfalva: the infrastructure of the community camp easily accommodated fifty.
And why, having assessed the needs of Dombfalva, they chose a solidarity project? "We didn't have much experience in writing applications. Solidarity projects have a relatively lower entry threshold compared to other, more complex programmes. Later on, we'd like to challenge ourselves in other programme types, too, all the more because the opportunities in both the Solidarity Corps and the Erasmus+ programme are built on each other and make our efforts sustainable. It should be handled in its complexity", explains Márton Orosz, the representative of the project host Játszoda Association.
And what the long-term goals are, and how our 'dream Dombfalva' looks like? We want to go on building the venue, as well as the community. I envision little, 'hobbit-style' houses on the hillside, a pond, a self-sufficient vegetable garden... And a committed and enthusiastic team, lots of events implemented, because what makes this thing alive is when you have a good time in a community", János sums up.
Last modified: 20-05-2020