A French and a Japanese girl are talking in a dim room. In Hungarian. The former with a strange but interesting feel to it, the other with some difficulty but smiling enthusiastically. Meanwhile, 'Somloi galuska' and 'langosh' are disappearing from the table. We visited one of the evening programmes of the Hungarian Language and Culture Summer University, winner of the European Language Label in 2013.
As I learnt from Kata Pelcz, head of the Hungarian language programme at the University of Pécs, Medical School, International Education Centre, and the main organiser of the summer university, this is the 15th year that the summer university in August will have been organised for students learning Hungarian as a foreign language. A mixed little company has come together: 59 students from 24 countries arrived in Pécs to learn Hungarian for two or four weeks. Again, most of the students came from European countries, but you could also find an Egyptian or a Japanese girl in the group as well as a Korean or a Turkish boy. Some had participated in the programme for the first time, whereas others were 'regulars' – they had spent the last month of summer in Pécs for many years.
How could you recruit people from so many parts of the world? 'Word of mouth is the best promotion', Kata smiles. Of course, they are aware that there's still a lot to improve in terms of marketing. The programme is also greatly promoted by the first part of the 'MagyarOK' course book series (also used at the summer university), published in 2013, as many students come across the website of the summer university while browsing for the book. The course book series is planned for four volumes. It seeks to provide a curriculum which enables students to continue their studies at university in Hungarian. Due to its logical structure and the amount of online educational materials, it is a great tool in the hand of teachers, supporting both learning and teaching. The 'MagyarOK' course book series is an integral part of the curriculum of the summer university.
However, the one-month intensive course is not all about book reading, as the traditional classroom work is only a part of what happens during the four weeks of the summer university. Teaching in the strict sense of the word is only conducted before lunch. Afterwards, however, the organisers and teachers seek to bring students closer not only to the Hungarian language, but also to culture and local features through excursions in and outside the town, cooking programmes in the evening and film clubs. Besides, there's also a fitness class every week, and participants can't miss evening entertainment, either. Of course, all this is in Hungarian. "Even wine tasting can be done in Hungarian and then processed from a linguistic point of view. The entire summer university is all about recycling. We don't even go to a pub without any linguistic content and purpose. There you can build your vocabulary, collect situations or just listen what your neighbour is saying, or whether you can hear any new expressions. We also constantly try to avoid using an intermediary language, in which the students are partners, too. It's an utter experience when an English and an Estonian student converse in Hungarian instead of choosing English", Kata added enthusiastically.
"We often think that our language is impossible to learn, but it takes just as much time to learn it as any other language – it only takes time and effort. The purpose of developing our methods is to provide high-quality language skills and get rid of any diversions."
You may as well ask who the people who don't spare time and effort to learn Hungarian are and what their motivation is. Kata found that some of those who attend the summer university are the ones with some connections to Hungary, but more and more are coming from e.g. Russia or even farther east who are planning their future in Hungary. Also, there are many who learn Hungarian at university. Besides, every year there are also Western European visitors who chose to settle down in Hungary after retirement, so the age range is rather broad within the little group. Still, interestingly enough, it doesn't seem to cause any generation conflict – the grandma and the grandchild generations get on well here, too.
Meanwhile, the last 'langosh' has been eaten, and the Japanese girl has joined the group which has disappeared in the study room to prepare for the next day's final exam. The rest of the group are playing board games in Hungarian, talking in Hungarian and kidding in Hungarian.
Henri from Estonia
Is this your first time in Hungary?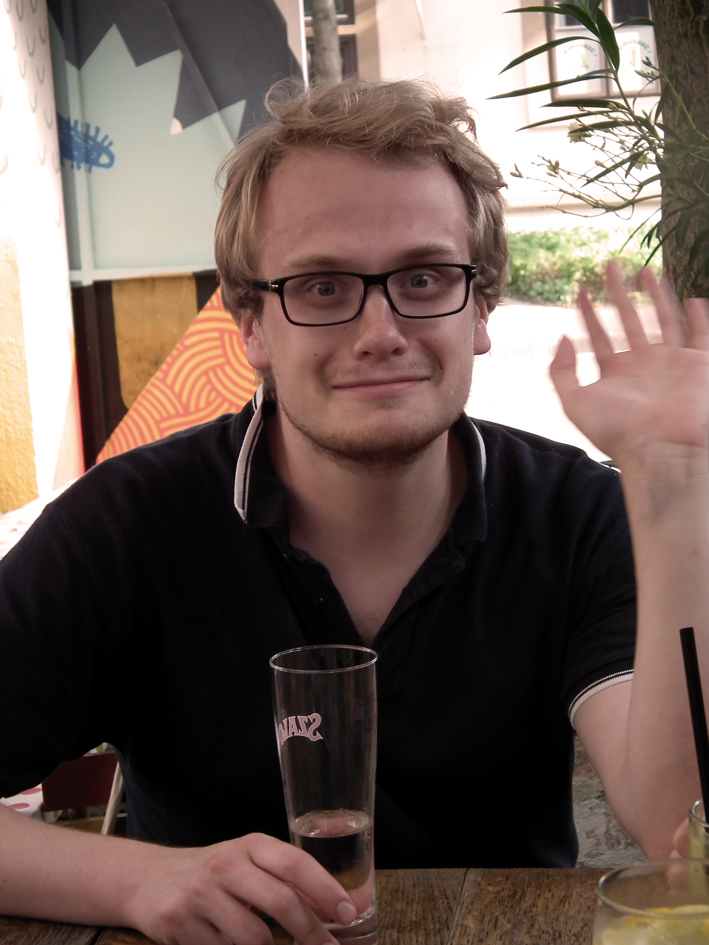 No, I first came here about ten years ago with my brass orchestra. We play classical music. But it's my first time at the summer university.
Why did your start learning Hungarian?
Currently, I'm studying Finno-Ugric languages at the University of Tartu, Estonia, and the largest such language is Hungarian.
What seems to be greatest challenge about Hungarian?
It's hard to tell, because I've only been learning it since September. Imperative, for example, which we've just learnt. But preverbs are rather difficult, too. Future tense, on the other hand, is very easy.
Which is your favourite Hungarian word?
That's a funny question. Maybe "pillangó" (butterfly). Or perhaps "szerelem". 'Szerelem' means love, which is a nice word in any language. In Estonian, it's 'armastus'.
Last modified: 16-10-2017